| | |
| --- | --- |
| | SERGEI CHEPIK |
| | News |

2014

MAJOR RETROSPECTIVE EXHIBITION 2014:
January 29- February 13, London, The Mall Galleries, The Mall, SW1(near Trafalgar Square)
the exhibition is open every day from Monday to Sunday, 10 AM- 5 PM.
tel: 00 44 207 930 6844 and 00 44 207 435 6660
Web site : http://www.cattogallery.co.uk
Mail : art@cattogallery.co.uk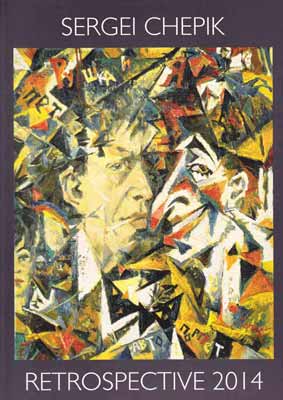 July 2008

A new monograph on Chepik's paintings has just been published :
EPIPHANIA: THE RELIGIOUS PAINTINGS OF SERGEI CHEPIK, by Marie-Aude Albert and Sergei Chepik, with a foreword of the Very Revd Dr John Moses, Dean Emeritus of St Paul's Cathedral in London.
Format 27 X 24 cm, black linen book cloth with gold foil blocks, colour dust jacket, 180 pages, 180 colour illustrations, 29 black and white illustrations, chronology.
Price: £ 40
On sale at:
1/ The Catto Gallery, 100 Heath Street, Hampstead, London NW3: tel: 207. 435. 6660. http://www.catto.co.uk
2/ The Bookshop of St Paul's Cathedral : http://www.stpauls.co.uk

Click here to see the cover.


From March, 19th - March 24th 2008

Invited by the town of Arles, Chepik will hold an exhibition during the famous Arlesian Feria in Chapel St Anne, opposite Church St Trophime, from March 19th to March 24th. The exhibition is open everyday from 10H30 AM to 7 PM. Free entrance. Opening party Wednesday 19th from 6PM. As a frequent visitor of the feria, Chepik has chosen to display works on the theme of bullfight and feria : paintings, pastels, ceramics and wooden sculptures.
Special Page here.



From January, 17th - February 15th 2008

Religious works exhibition at the Centre Culturel Français de Milan, Palazzo delle Stelline, Corso Magenta 63.


From June, 7 2006

Presentation of Chepik's new art book and new exhibition at the CATTO GALLERY, London, NW3, from June 7th

From September, 20th - October 16th 2005

Personal 2005 exhibition, The Catto Gallery, London-Hampstead, September, 20th - October 16th 2005.
January, 24 2005

Baroness Margaret Thatcher and about 500 guests attended in St Paul's Cathedral the dedication of Chepik's 4 large canvases entitled "The Way, the Truth, the Life".
In his speech, the Dean of St Paul's, the Very Revd Dr John Moses said: "Chepik has captured in a stark and powerful fashion the Christ whom I found in the Gospels" and "this presentation of the Person of Our Lord in our tormented world may be able to speak to hearts and minds". While art critic Godfrey Barker emphasised that "these paintings are very much 'of our time' " and that " though these pictures are religious art, not vague dreams 'spiritual art', they will speak to those who dismiss Christianity or are ignorant of it as well as to those who have faith". See the St-Paul's Cathedral Page.


November 4-9th 2004

Chepik has held a major solo exhibition at the Espace Pierre Cardin in Paris during the 2d Russian Film Festival in Paris. The exhibition entitled "War and peace" displayed a large variety of works (canvases, monotypes, pastels, watercolours, drawings and ceramics) from 1987 (The Veterans) to 2004 (fresh watercolours painted this autumn in Collioure).


March 21th 2004

A box of 40 original, signed lithographs in a limited edition of 50 is on sale now ! See the Drawings of The Dead House page.


Sergei Chepik at St.Paul's Cathedral :

Sergei Chepik, a fervent Christian with a confirmed taste for religious painting, has been commissionned by St. Paul's Cathedral in London to paint 4 enormous panels, which will hang on the two large pillars at the centre of the Cathedral. The whole composition, entitled "I am the Way, the Truth and the Life" (St John, 14:6), is now being painted by the Russian born artist in his Montmartre studio. The two upper panels entitled The Nativity and the Resurrection have already been completed. Chepik is now proceeding to the execution of the two major panels (more than 4 meters in height) representing the Public Life and the Passion of Our Lord Jesus Christ. He will be working on them until the end of this year.
Chepik has been working on this project since April 2002, making numerous sketches and hundreds of preparatory drawings. With this monumental composition Chepik will be the first contemporary artist ever commissionned by St-Paul's Cathedral. See the page dedicated to this work in progress.



October 2003 :

Chepik's painting "Christmas at Staraya ladoga " features in Family Christmas Treasures, by Kacey Barron, a magnificent art book just published by Hugh Lauter Levin Associates (see Books and cards).


November 14th - November 23rd

Chepik will be present at the Paris Salon d'Automne from November 14th to November 23rd.
He will exhibit "The Apocalypse of St John" (180 x 130 cm), painted 2001, and two small canvases (22 x 16 cm) entitled "Let the Light be" and "The Prophet", painted 2003.
The Paris Salon d'Automne is celebrating this year its 100th anniversary.


Now :

Chepik's Painting The House of the Dead (or The Madhouse) features in a magnificent book "Medicine and Art" written by Pr. Alan and Marcia EMERY and published by the Royal Society of Medecine Press. To order a copy of this book, phone: 01235.465.500 in London or see the website http://www.rsm.ac.uk/pub/bkemery3.htm


... and Still Now :
Since Easter 2002, Golgotha has been exhibited at St.Paul's Cathedral in London
From March 11th
SERGEI CHEPIK's Personal exhibition :
A new Chepik exhibition has opened on March 11th at the Catto Gallery, 100 heath Street, London Hampstead. Amongst the new paintings, a marvellous séries of the feria of Arles and the portrait of famous French Movies actor, Pierre Richard.


March 5th - March 30th 2002
SERGEI CHEPIK's Personal exhibition :
Galerie POPOFF, 86, rue duFaubourg Saint Honoré, 75008 PARIS
tel: 01.42.65.38.44. FromMarch 5th to March 30th. Vernissage on tuesday March 5th.
September-October2001
A new exhibition entirely dedicated to the famous Parisian Moulin-Rouge will take place atthe Catto Gallery in 23 Cork Street (London-Mayfair) from September 26th to October 6th.
April2001
Chepik's masterpiece The Cross of Russia (1999) will be exhibited in the exhibition roomof the Paris-Mairie du VIII° (3, rue de Lisbonne) from April 3rd to April 13th.Exhibition open from 12 to 6.30 PM everyday except saturday and sunday.
November16th 2000
Chepik has just come back from Venice, where he spent 3 weeks paintingplein-air studies. These venitian oil landscapes altogether with drawings, pastels,watercolours and lithographs will be exhibited at the Catto gallery in London-Hampsteadfrom December 13th. A catalogue will be available from the Catto gallery. A limitededition of 50 original posters for the 2001 Venitian carnival, signed by the artist, willbe available during the exhibition.
August9th - 19th 2000
Chepik and his wife have beentravelling through Perigord, one of the most beautiful and pleasant areas of France.Perigord is famous for its old medieval castles, picturesque villages, attractivelandscapes and wonderful foie gras. Many watercolours have been painted, as the artist hastaken his travelling easel. These watercolours will be exhibited next autumn at the CattoGallery, London-Hampstead.
April- May 2000
Chepiktakes part in the Salon of Ecole Française, exhibiting a few works in a little chapeloutside Paris in Croissy-sur-Seine, from April 28th to May 10th (15pm-19pm).
April2000
Chepik has just come back fromthe isle of Capri (Italy) where he has painted a few watercolours.
March2th 2000
Chepik arrived in Venice to take part in the carnival.
February17th 2000
Chepik has just begun to work on the Moulin Rouge series. These series will be the result of a two months work at theMoulin Rouge during the November and December rehearsals for the new show"Feerie".
Chepik and his wife willattend the famous Eastern Feria in Arles from April 21st to April 24th ; Bullfight hasbeen one of his favourite themes since 1992.